Track and trace technology
Metrc's goal from the start was to create a robust track-and-trace platform to facilitate data collection on a massive scale. In the jurisdictions we serve, licensed users upload and report every action impacting the status of a plant or the creation of cannabis-based products. When plants are harvested and packaged or combined with other plants in the production of oils, edibles, or concentrates, the origin, testing results, handling, and chain-of-custody information is visible and traceable by regulators. Tens of millions of plants and cannabis-based products are accounted for in Metrc's system in this way.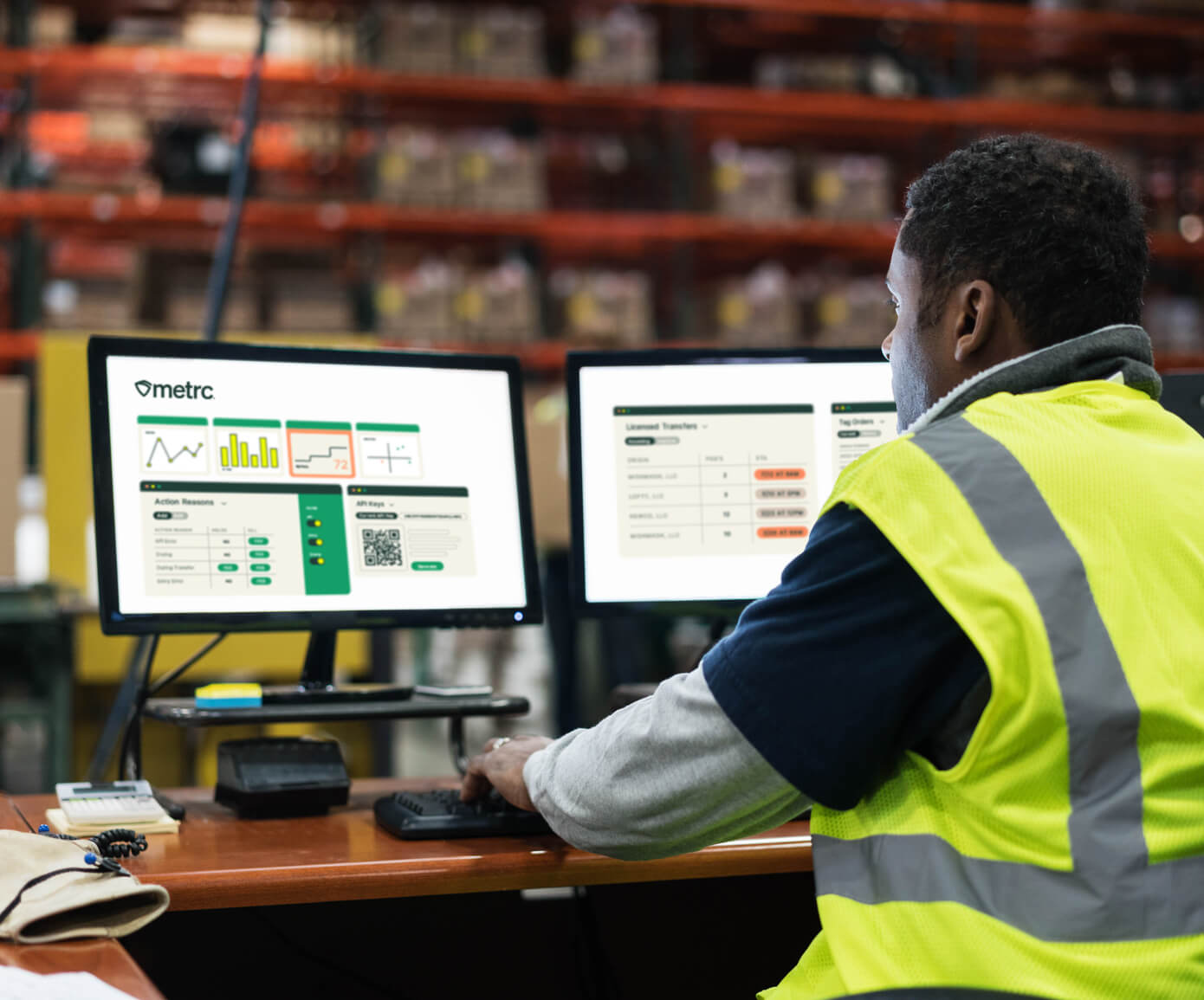 If it's tagged, it's
trackable.
Track and trace technology is a process that uses a combination of hardware and software to track the movement of goods or people. This information can be used to monitor and optimize supply chains, as well as to prevent theft or other losses. Metrc designed a track and trace system based on radio frequency identification (RFID) tags. These tags are attached to products or containers and emit a signal that can be detected by special readers. The information from the tags is then transmitted to a central database, where it can be analyzed to track the movement of the goods or people.
Dynamic software
The cloud-based software platform that allows Metrc to securely track, store, and retrieve millions of data points input from thousands of different sources was designed from scratch by Metrc engineers. Metrc's tracking platform was built to be nimble, scalable, and responsive to changes in a dynamic market without significant down time. Durability, flexibility, and ease-of-use remain the hallmarks of Metrc's track and trace software system.
Hardware you can trust
Metrc's database works in tandem with another element of proprietary technology—Metrc's radio-frequency identification (RFID) tags. In the markets we serve, growers affix a low-cost Metrc-supplied RFID tag to cannabis plants when they become viable. Each tag is embedded with a unique chip that carries coded regulatory information. Every time the tag is scanned, its unique ID is verified, making it nearly impossible to counterfeit.
RFID leadership
Sustained decades-long efforts to improve the speed and accuracy of remote electronic data collection have made Metrc a leader in radio-frequency identification (RFID) track and trace technology. The security features of RFID-enabled tags, coupled with the system's superior auditing and data-collection capabilities, have proven to be ideally suited to cannabis regulation, especially when compared to systems that rely on barcode or QR code methods. Using Metrc RFID tags and handheld readers, regulators can perform site inspections, audits, and investigations in a fraction of the time required by other line-of-sight scanning technologies.
Traceability, powered by data
The data collected in Metrc's system gives state agencies insight into the health and behavior of the regulated market. This information is critical to track and trace investigations. Data markers can reveal if fees or rates of taxation are being shared equally by all segments of industry and if they are generating the expected rates of return. They inform the impact of policy adjustments, flag unusual discrepancies, provide the impetus for new health measures, and offer proof new initiatives are having the desired impact. Metrc data provides policymakers with insight that will help shape better outcomes in the markets we serve.
Open API
Metrc has dedicated itself to keeping compliance for cannabis-related businesses as simple and burden-free as possible. Metrc's open Application Programming Interface (API) has been designed to integrate with third-party programs—everything from inventory management and tracking systems to transport manifests, test results, and point-of-sale data. The open API is designed to ensure that compliance updates can be automated or uploaded with minimal effort, easing the time and resource demands of compliance on industry and business.